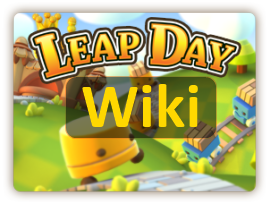 Welcome to the Leap Day Wiki
Edit
Leap Day is a puzzle, pathfinding, resource management, online cooperative game that started its public beta on January 30th, 2013.  This wiki aims to collect information about the game. Welcome!
About Leap Day
Edit
Leap Day was developed by Spry Fox and Sparkypants and is the first cooperative multiplayer game of its kind. This puzzle game challenges you to create vast networks of paths and factories to craft countless goods, solve infinite problems with the assistance of friends and strangers alike, and direct the adorable Flan hopping, chugging, and wobbling everywhere in service to their Flannish princes and princesses (that's you!). Join forces with up to seven other players over the course of four real days to help the cute but single-minded Flan recapture their homes from the frozen wastelands and ghosts of their ancestors. Play now!
Leap Day Game Updates
Edit
September 26th, 2013
Edit
In game help is now available! Click the ? in the upper right corner of the screen. (Comes with pretty pictures)
Welcome to all the new Leap Day players! Say hello in chat and help build up our little Flannish community.
More updates here .
Index of pages
Edit
Latest activity
Edit
Ad blocker interference detected!
Wikia is a free-to-use site that makes money from advertising. We have a modified experience for viewers using ad blockers

Wikia is not accessible if you've made further modifications. Remove the custom ad blocker rule(s) and the page will load as expected.